Create a Ticket
Once you have a customer / department setup you can start creating tickets straight away.
There are currently three ways to create a ticket from the Emsada Console. They are the Create New Ticket button in the Main Menu on the left, the New Ticket button at the very top left of the title bar and also the New Ticket button in the Ribbon which is visible when you have the ticket list tab active.
Once you click New Ticket you will be presented with the following screen where you simply link it to a customer and log the ticket details.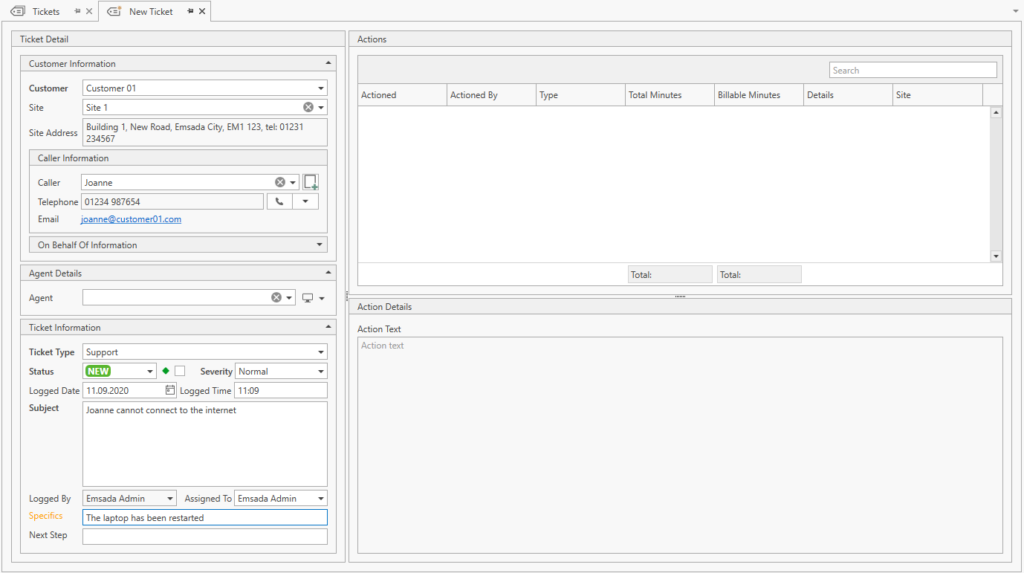 Add Action
Once you fill the information in and click the Create Ticket button in the Ribbon an action timer will start which is visible in the ribbon. The time will pause when this ticket tab is not active. If for example you spent 5 minutes on the ticket this would then automatically populate in the new action details. To see this in action click the Add Action button in the Ribbon.
As you can see from the image above that the Total Minutes has been set to 5, this value was taken from the action timer. This value can be changed if required. Clicking Save Action will add the new action to the action list.
Ticket List
Once the ticket has been created you can click the Tickets tab to view all open tickets.